COVID-19: A call for donations for the survivors and victims of sexual exploitation.
The Way Out is calling out for donations to help women during the COVID-19 pandemic. Many of these women find themselves in precarious situations, as they suffer from symptoms of the virus. With confinement, they are often locked up with their pimps, who are usually violent towards them. These women are often forced to receive their clients/abusers in a corner of a nearby park or at their homes. These women don't generally qualify for government financial aid to obtain a compensatory income. Consequently, the pandemic has left these women in a state of poverty.
COVID-19: We are always active
The second wave of the pandemic has resulted in the slowing down of several essential social organizations, while others have even closed completely. Nevertheless, The Way Out is always present with its team of professionals in the field to provide ongoing help to these women on the streets. The needs are urgent and we absolutely must increase our frontline fieldwork services. 
COVID-19: Current initiatives
Your donations will contribute to our campaign "The great forgotten women of the crisis" which will finance all our initiatives on the streets. 
 
Here are some of our initiatives:
Initial contact with our team professionals, creating a bond of trust with the women as they initiate a process of empathy regarding their situation and any suffered trauma. Building a connection allows for the intervention process to begin. Our team is able to analyze the particular situations, recognizing specific needs in order to offer them an alternative to the sex industry or to offer them a safe and peaceful refuge at our residence.  
Support from our community workers to accompany the women for a doctor's appointment, or going to the hospital to obtain medical care, or for a court appearance (complaint against their pimps), an appointment for a job, going to the neighbourhood food bank, etc. 
Providing women with information on preventive measures and basic hygiene rules for both themselves and their clients. Such recommendations may include requesting clients to wash their hands, faces and if possible to take a shower. 
Distribution of food and warm clothing as well as hygiene product kits in the Hochelaga-Maisonneuve district and downtown Montreal.  ….and that's just to mention a few of the services and projects our team is doing!
Donors like you help ensure that our team out on the field has all the resources they need to continue supporting these women on their journey. Donate today and help support our services and projects especially those that offer an alternative to the sex industry. 
 
With a donation of $99 or more, you will receive a mask branded with the La sortie logo.
Thank you for giving them a Way Out!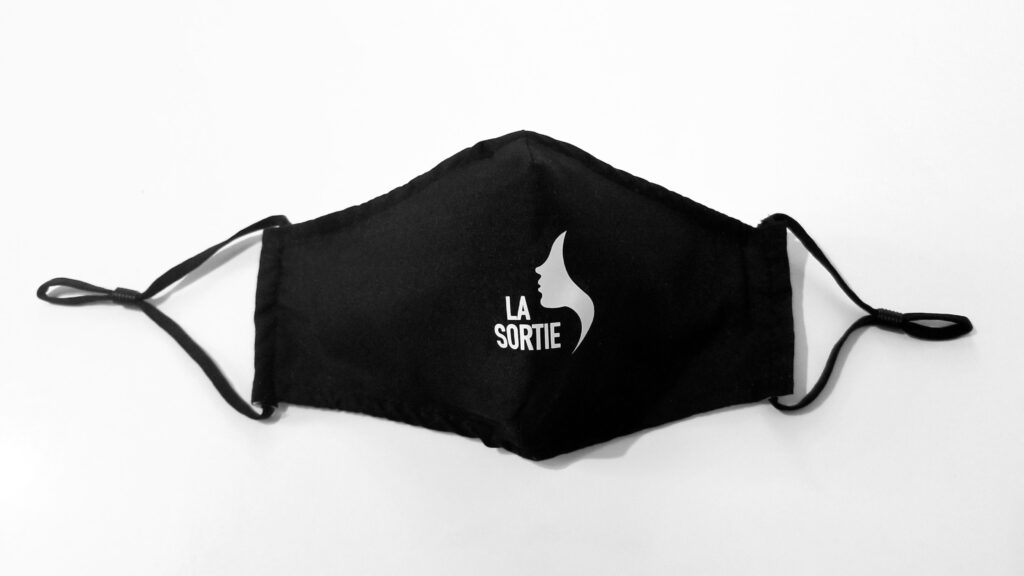 Discover the latest news on our virtual Gala!
Last August the team at The Way Out decided to embark on a new adventure to raise funds for its mission – our first ever virtual Gala! The team worked hard to put together a special evening that was both informative and entertaining. December 8th was the big day! We had a total of 253 people that showed their dedication by attending and we raised a total sum of $15,000.

The funds raised was to support our social reintegration program "Alternative to the sex industry". We are infinitely grateful for the generosity shown by our donors. Thanks to your donations, we will continue to support all of these women. The year 2021 will be the year we put every effort into offering these women a Way Out!
 
We would like to highlight the generosity shown to us by the Mobilia Foundation, especially thanking their president, Johannes Kau. Thanks again for your support. 

-The team at La Sortie
During our last strategic planning meeting with the members of the Board and the employees of The Way Out, several decisions and essential actions were taken to improve our programs and services. Great projects are on the horizon!
Christmas is for everyone!
Thanks to your donations, Gabrielle, our community worker was able to go to the field on December 21 to distribute food and warm clothes to women in the street.
Thank you for your generosity.
BE THE FIRST TO KNOW ABOUT OUR SERVICES, PROJECTS AND FIELDWORK!

Follow us on social media